How to use our Purifying Mineral Mud Mask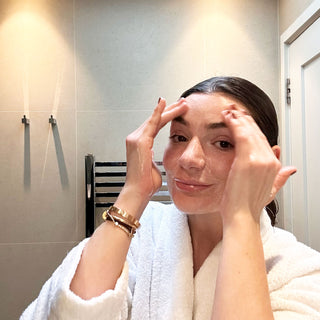 Step 1
Gently clean your face, ensuring that your skin is clean and dry.
Step 2
Apply the Purifying Mineral Mud Mask to your face, covering all areas evenly. Be careful to avoid your eyes.
Step 3
Relax for 15 minutes as the mask dries and works its magic.
Step 4
Wash away the mask using warm water, before patting dry your skin with a clean towel.
Our key Ingredients
Spa-quality treatment, powered by minerals from the Dead Sea
Dead Sea Mud
Reduces skin impurities by clarifying and purifying pores to help decongest, cleanse and control breakouts.
Aloe Vera
Helps lock in hydration, strengthen the skin's protective barrier function, support collagen synthesis and reduce redness.
Zinc Oxide
A natural, inorganic mineral used as a physical sunscreen, providing broad- spectrum protection against UVA and UVB rays. Also known for its soothing and astringent properties, making it suitable for sensitive or acne-prone skin.
The Dead Sea
The Dead Sea sits at the lowest point on earth and is more concentrated in salt than any other sea in the world, making it deeply enriched with an array of rejuvenating minerals